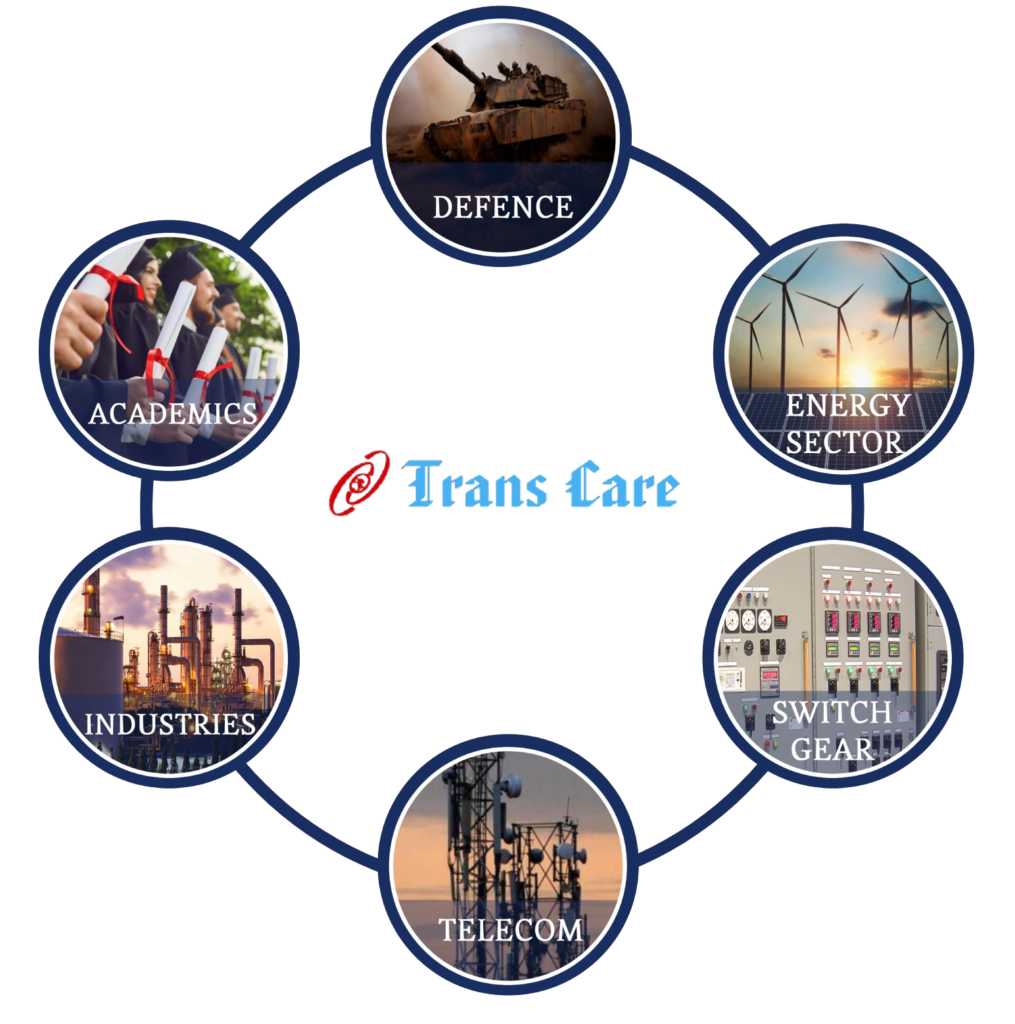 Established in the year 2000, at Bengaluru, Karnataka (India), we, "Trans Care," are one of the leading designers and manufacturers of Transformers. Our product range is manufactured using high grade components that are procured from reliable vendors for a consistent quality output. Further, we follow a strict quality management program to ensure unmatched quality of our range. Our range of Transformers from 1VA – 300KVA Single phased and Three phase Transformer is renowned for its durable finish standards, safety, maintenance free working and high utility. It is due to the high quality of our product range that it finds varied applications in Engineering and Electric Industry.
For effective production of our product range, we have developed a technologically advanced manufacturing unit, which is equipped with the latest tools and equipment. Further, we are constantly on the lookout for developments and advancements in this domain to ensure that our processes are up to date. We also have expert professionals in our team who possess relevant knowledge and experience of designing and manufacturing Transformers.
We are backed by a team of expert professionals that possesses extensive knowledge and experience in their respective domains. Our team of designers is dedicated towards designing Transformer that offer high utility to the clients. Further, our team of quality controllers keeps a close vigil on the manufacturing process and conducts regular inspections based on well defined quality parameters. We also have a strong sales and marketing division to ensure smooth functioning of our processes. In order to keep the knowledge and skill levels of our professionals up to date, we also conduct regular training sessions with them.
We have an extensive manufacturing unit that is spread across a sprawling area. Our manufacturing facility also has various tools and equipment such as welding machines, fabricating tools, insulators and exchangers to maintain an effective rate of production. It is the presence of such tools and equipment and our adaptation of the latest technology that we have been successful in offering high quality Transformers to the clients. Further, in order to ensure that all our machines are working at full efficiency, we conduct regular checks and inspections of them on well defined parameters.
| | | | |
| --- | --- | --- | --- |
| SI NO | Particulars | Qty | Make |
| 1 | Programmable Coil Winding  Machine | 5 Set | Synthesis Winder Technologies (P) Ltd |
| 2 | Heavy Duty Manual Winding Machine | 1 No | Samyuktha |
| 3 | Medium Heavy Duty Manual Machine | 2 No |   |
| 4 | Light Duty Manual Winding Machine | 3 Nos. |   |
| 5 | Oven    Size – 2' * 2'*   2.5' | 1 No. | Kunnath Engineers |
| 6 | Drilling Machine | 1 No. | Amanulla Khan & Brothers |
| 7 | Vacuum Impregnation  Plant | 1 No. | PSM    (Capacity 100 Lts) |
We aim at offering to our clients Transformer that are of the highest quality. Our team of quality experts conducts inspections and checks based on defined parameters to ensure that our product range is of the highest quality. Further, we also ensure that the basic material and the components that are used by us are procured from reliable vendors. This also minimizes the chances of a short circuit and other electrical hazards.
Following are the technical specifications of our product range:
Safe to use
Durable finish standards
Good insulation
Load capacity
Inspection & Testing Equipments
| | | |
| --- | --- | --- |
| Sl. No | Particulars | Make |
| 1 | Dimmer stat | MICRO PWER ELECTRONICS |
| 2 | Digital Test Bench | TRANS CARE |
| 3 | Digital Multimeter | RISHAB |
| 4 | Analog Multimeter | MOTWANE |
| 5 | Digital Voltmeter | – |
| 6 | Digital Ammeter | – |
| 7 | High Voltage Break Down Tester | – |
| 8 | LCR Bridge | PACIFIC |
| 9 | Megger | MECO |
| 10 | Oscillo Scope | SCIENTIFIC INSTRUMENTS |
| 11 | Clippon Meter | VARTECH |
We have a dedicated R&D department that aims at keeping us abreast with the latest developments in the domain of Transformer. Our R&D professionals conduct regular market surveys and undertake intensive research to ensure that our range is as per the current market requirements. Some of the aspects that our R&D team focuses on are manufacturing procedure, technology, and basic material. The R&D process followed by us has been instrumental in ensuring that our range of Transformer offers high utility to the clients.